EVENEMANG>
Releasekonsert med MAMBO NOIR TRIO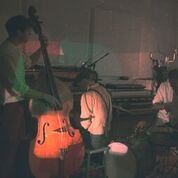 fredag 13 september
19
Entré 100:-, biljetter finns på Rönnells
On their self-titled debut album, Mambo Noir Trio brings together dark exotica and jazzy swagger. The result of a series of inspired after-hours sessions, Mambo Noir is an album of hushed exotica without the kitsch factor. Instead of transporting the listener to exotic faraway islands, Mambo Noir's music places us immediately in a smoky harbour bar scene that could be an outtake from a French 1940s film noir. Mambo Noir Trio treats its source material with a tentative playfulness that allows vibraphone timbres time to diffuse and roll out, while double bass loops keep the musical movement grounded. This approach is somewhat reminiscent of Belgian film composer Francois de Roubaix, with the harmonic nuances of Cuban mambo pianist Ruben Gonzalez' improvisations thrown in for good measure. Rhythmically the record brings to mind the bluesy, freewheeling sound of the Ethiopian singer, pianist and nun Emahoy Tsegue ́-Maryam Guebrou. The atmosphere running through Mambo Noir Trio's debut album is eerie, melancholic and yet strangely upbeat. This is mambo music for a fever dream about love and perhaps passion murder.
Recorded live in Matti Bye's Studio Barnängen, fittingly located in the Hammarby harbour in Stockholm, the album features nine tracks of sure-handedly improvised music for piano, percussion and vibraphone. From the Manciniesque opening track Noir to the shifting lullaby mood of Fin that bookend the record through the waltzy Clouds, the music moves in on its prey in slowly seductive circles, like a lovesick street cat. Who knows what the night has in store for the participants in the drama that unfolds throughout the record. With an air thick with equal parts hope and jealousy, there will probably be some blood.
Mambo Noir Trio is comprised of Matti Bye on piano and electronics (well known for his scores to contemporary films as well as vintage silent movies), Vilhelm Bromander (Saigon, Musette, Joe Davolaz, Josefin Öhrn +The Liberation) on double bass and Dennis Egberth (Saigon, Joe Davolaz, Taxi Taxi, Josefin Öhrn +TheLiberation) on drums and percussion. The recordings were influenced and colored in by Anders af Klintberg, who produced and mixed the record. Together they form a musical universe that is timidly romantic whilst mysterious under currents of danger run throughout.
Dörren öppnas kl. 19, konsertstart 19:30.
I samarbete med Rönnells Vänner, Studiefrämjandet, Kulturrådet, Stockholms stad och Humlegården Fastigheter.