EVENEMANG>
Presentation av Fabio Gallis bok "Marcel Duchamp au hasard Leonardo da Vinci"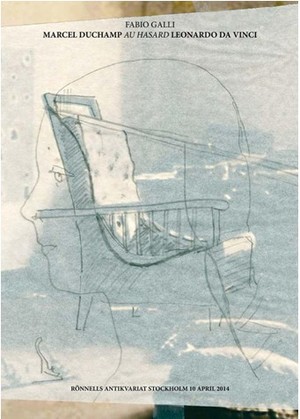 This book traces the author's discovery that a drawing found by chance and attributed in 2008 by experts to Leonardo da Vinci is in fact the work of Marcel Duchamp, a self portrait in disguise as Rrose Sélavy in her youth.
The coloured drawing on vellum represents a young woman in profile, in Milanese Renaissance costume. Renamed "La Bella Principessa" by Martin Kemp, professor of Art History at Oxford University, it is currently thought to be by Leonardo himself. By interpreting Duchamp's riddles, his language of signs and the hidden connection of his geometry with that of da Vinci, the author explores evidence to indicate that the drawing is the crowning of Duchamp's work Étant donnés. It is the missing piece: le visage of the nude. Through it, Marcel is recognised as Leonardo and becomes one with him after death, thus continuing to live.
This book provides the necessary link for Duchamp's work to come to light.
Fabio Galli will be introduced by Leif Elggren.
Varmt välkomna!
I samarbete med Rönnells Vänner, Studiefrämjandet, Kulturrådet, Stockholms stad och Humlegården Fastigheter.