EVENEMANG>
Mette Rasmussen & Chris Corsano LIVE!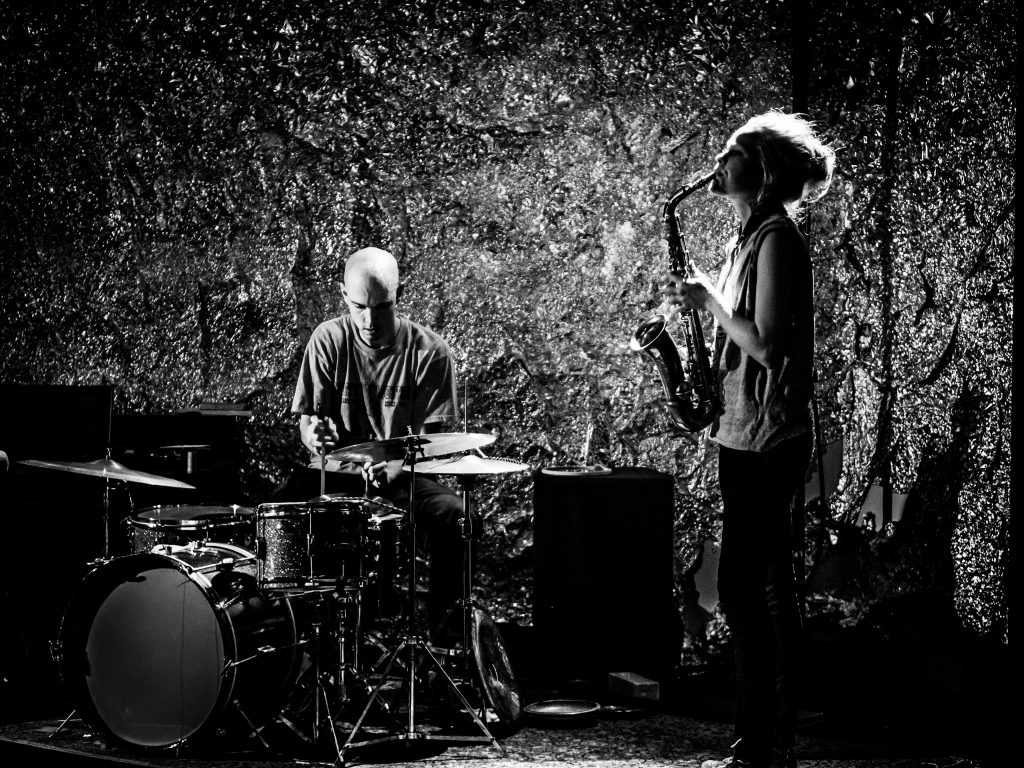 söndag 1 september
19-21
Entré 200:-, biljetter finns på Rönnells
Rasmussen-Corsano Duo 
Entré från kl. 18:30, live kl. 19.
METTE RASMUSSEN is a Danish saxophone player living in Trondheim,
Norway. Drawing from the energy of free jazz, her playing has been
described as a head full of ideas, that she executes to the maximum.
With an ongoing study of new sonic possibilities she uses a broad
pallet of techniques, extending the grammar of the instrument. The
last several years she has been highly active all around the world.
CHRIS CORSANO is a drummer who has been working at the forefront of free improvisation, avant-rock, and noise music since the late 1990s. He is a rim-batterer of choice for some of the greatest contemporary purveyors of "jazz" (Paul Flaherty, Joe McPhee, Evan Parker, Christine Abdelnour, Okkyung Lee) and "rock" (Sir Richard Bishop, Bill Orcutt, Jim O'Rourke), as well as artists beyond categorization (Björk, Ghédalia Tazartès, Jandek). Appearing on over 150 albums and touring the world in an ultra-wide array of collaborations, Corsano is also a formidable solo performer in his own right, generating new universes of sound that can be heard on his albums The Young Cricketer, Another Dull Dawn, and Cut. He's been called a "powerhouse drummer" by Rolling Stone, "a peripatetic ace of the avant-garde" by The New York Times, and "arguably the most riotously energetic and creative drummer in contemporary free jazz" by Wire Magazine. In 2013 Spin Magazine listed him as of the '100 Greatest Drummers of Alternative Music,' and in 2017, he received the Foundation for Contemporary Arts Grants to Artists Award.
Music:
"Train Track" from the CD "All the Ghosts at Once" on Relative Pitch records. Hosted on The Wire's website: http://www.thewire.co.uk/audio/tracks/listen_mette-rasmussen-track
Video:
https://www.youtube.com/watch?v=Izda8GOIZN8
https://www.youtube.com/watch?v=yNtomIl8Gz0
https://www.youtube.com/watch?v=2DE2GV58KLo
"The duo produces a buoyant sound, part primal energy drive, part liberation."  – Mark Corroto, All about jazz.
"In revisiting the template laid down by John Coltrane and Rashied Ali on Interstellar Space, the pair pick up on a quintessential and enduring out-jazz configuration – the sax/drums duo… What stands out
most on the album is the duo's use of space. There's very little in the way of gratuitous skronk – but plenty of room for Rasmussen to investigate a wide palette of voicing, from a raggedly insistent
fluttering, through a softly trilling multiphonic purr, and on to high, expressive leaps into flashes of altissimo, just riding the razored edge of controlled lyricism." – Daniel Spicer, The Wire
photo: Peter Gannushkin
I samarbete med Rönnells Vänner, Studiefrämjandet, Kulturrådet, Stockholms stad och Humlegården Fastigheter.