EVENEMANG>
LIVE! 75 Dollar Bill & John Chantler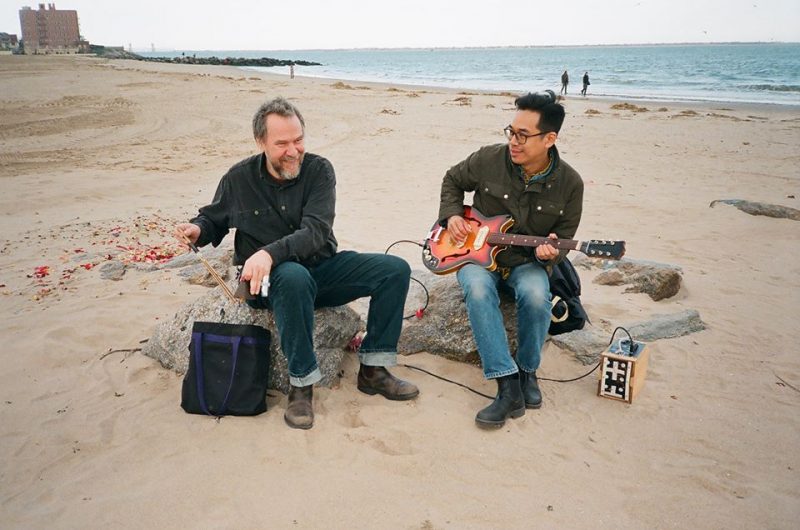 måndag 9 december
18:30-21:30
150:- (biljetter finns på Rönnells)
Oma333 & Rönnells proudly present:
75 Dollar Bill & John Chantler 
A family night of tent music for tent people. You are all welcome!
75 DOLLAR BILL live at 20
75 Dollar Bill was formed in 2012 in New York City by percussionist Rick Brown and guitarist Che Chen. Played on a deeply resonant plywood crate, Brown's earthy, elemental rhythms are both the foundation and foil for Chen's ecstatic, modal guitar style. The duo's electric, richly patterned music can shape shift from joyful dance tunes to slowly changing trance minimalism, an uncategorizable hybrid which draws on the modal traditions of West Africa, India and the Middle East, early electric blues, Sun Ra's space chords and the minimalist and No Wave histories of their hometown. While Brown and Chen are always at the band's core, the duo frequently expands into other configurations live and on record, from trio to 25-piece marching band. This special trio formation of the band features long-time collaborator Andrew Lafkas on upright bass.
75 Dollar Bill has released a string of cassettes and three LPs the most recent of which, the double album I Was Real was released in July of 2019 on Thin Wrist in North America, and on tak:til, a sub imprint of Glitterbeat, in Europe and the UK.
Percussionist Rick Brown has been in bands in NYC since the late 70s, including Blinding Headache, V-Effect and Run On. Guitarist and multi-instrumentalist Che Chen is also a member of the band True Primes and has been an energetic organizer and improviser in the American underground since the mid-2000s. Andrew Lafkas is based in Berlin where he continues to develop solo music and music for large ensembles thru his Model Infinity Orchestra project. He is also a member of Oceans Roar 1,000 Drums, a trio with Todd Capp and Bryan Eubanks.
Photo credit; Alex Phillipe Cohen
Glitterbeat/tak:til – http://glitterbeat.com/artists/75-dollar-bill/
Glitterbeat bandcamp – https://75-dollar-bill.bandcamp.com/album/i-was-real
Band/camp – 75dollarbill.bandcamp.com
Lovely review of their most recent album and taste of their history; https://bombmagazine.org/articles/75-dollar-bills-i-was-real/
"You could dance to it, mourn with it, revel in it, or march alongside it."
JOHN CHANTLER live at 19
John Chantler is a musician and organiser living in Stockholm, Sweden. He mostly works with synthesizers and electronics to create unpredictable, highly dynamic music where passages of spare, alien beauty bridge distorted washes of masses harmonics.
Originally from Australia he spent a decade in London before moving to Sweden where he directs a small annual festival for 'other music' in Stockholm called Edition. The 'Fifth Edition' is provisionally scheduled for early August 2020.
Chantler has performed in the UK, Australia, New Zealand, Japan, North America and across Europe including appearances at Akousma, Montreal; Madeira Dig; +90db Festival, Rome; Issue Project Room, NYC; and London's Southbank Centre.
Tone Shift described a track on his most recent release as harnessing "a seductive ambient landscape that makes inference to time in its relationship to space.. His warped vision is genuinely cryptic and of grace."
Story; https://www.youtube.com/watch?v=JQng3gkxZzY
Sounds; https://johnchantler.bandcamp.com/
Site; http://inventingzero.net/home/
Har man inte möjlighet att köpa biljett i butiken kan man el-posta namn och antal till info@ronnells.se samt Swisha summan till 123 576 3438. Swisha aldrig utan att meddela oss först!
I samarbete med Oma333, Rönnells Vänner, Studiefrämjandet, Kulturrådet, Stockholms stad och Humlegården Fastigheter.