EVENEMANG>
Konsert med Richard Dawson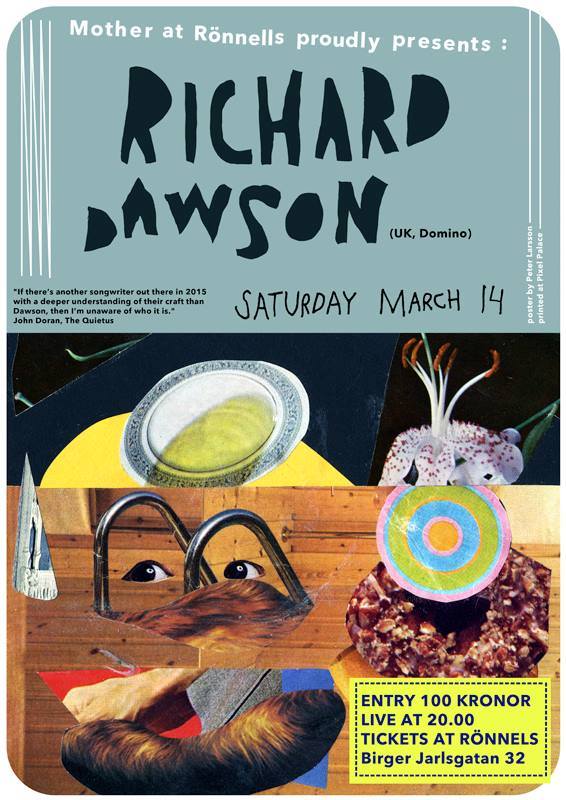 lördag 14 mars
19-22
100:-
Do. Not. Miss. This. Concert
RICHARD DAWSON
Rising up from the bed of the River Tyne, a voice that crumbles and soars, that is steeped in age-old balladry and finely-chiselled observations of the mundane, Richard Dawson is a skewed troubadour at once charming and abrasive. His shambolically virtuosic guitar playing stumbles from music-hall tune-smithery to spidery swatches of noise-colour, swathed in amp static and teetering on the edge of feedback. His songs are both chucklesome and tragic, rooted in a febrile imagination that references worlds held dear and worlds unknown. New album Nothing Important out now on Domino records, hypnotises from its tender dark whispers to its wild screams, an unparalleled voice in today's over-preened and manufactured music world.
"The first time I saw him, last year in Glasgow, I went along with no great expectations, perhaps even a little cynicism. He opened with 'The Brisk Lad', a harrowing and defiant tale of sheep theft on the grim Yorkshire moors, performed a cappella and virtually unamplified. It was astonishing – direct, raw, wounded, loud as fuck. The voice of a bear smouldering on a peat fire, the words of poet, the cold-stare intensity of a lone trawlerman whose shipmates were lost to the waves, the buzzing alertness of a questing improviser, a soul as old as the landscape he sung about."
http://thequietus.com/articles/16757-richard-dawson-nothing-important-review
Recent live clip. https://www.youtube.com/watch?v=UDHayWOzaVI
Both live and on record Dawson is a barrage of musical expression and personality. A shambling exterior, amidst tales of pineapples and underpants, ghosts of family members and cats, his stage presence is at once inviting and awe-inspiring. The visceral power of his voice against the lurching modality of his guitar lines conjure false memories of Tim Buckley and Richard Youngs duetting with Sir Richard Bishop and Zoot Horn Rollo. There is a rawness to the music that embodies timeworn singing traditions – the fire and pestilence gait of the Sacred Harp singings, the fractured call and response of the Gaelic Psalms, the unbridled power of Mongolian throat singers – its power tempered by intimacy, flecked with human emotion anchored by a sense of place.
Nothing Important is a journey into the mind of Richard Dawson, like a visit to a faith healer one's own reality melts away as sinewy guitar lines ricochet beneath wavering, spitting lungpower. He picks out wandering melodies, with warped, atonal harmonies wafting in and out of focus; at times the guitar is a second ghostly voice, at others a growling primal stomp driving rabidly forward.
Sounds; https://soundcloud.com/weirdworldrecordco/richard-dawson-nothing-important