EVENEMANG>
Konsert med experimentelle brittiske folkrockaren Richard Dawson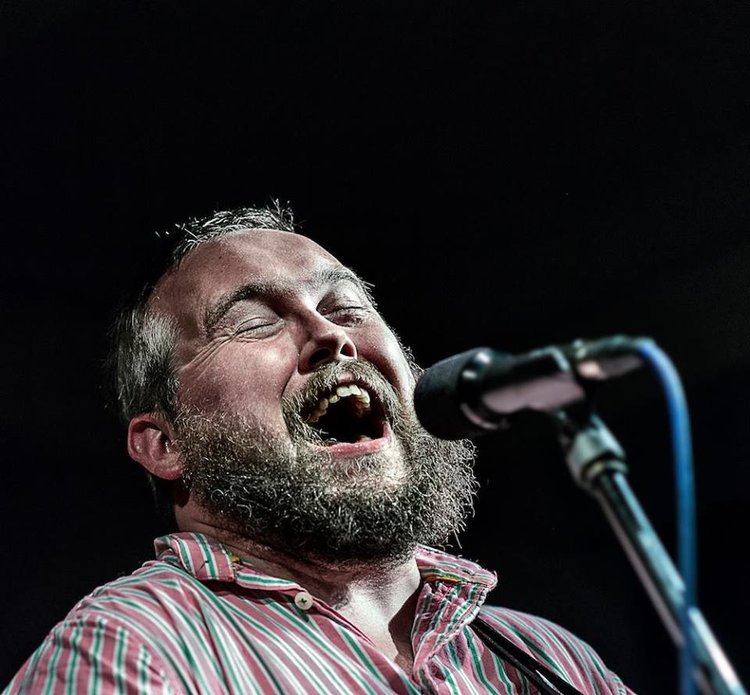 torsdag 1 september
19-22
100:-
RICHARD DAWSON (UK, Domino)
proudly presented by Oma333, Sing a song fighter, Rönnells Antikvariat and in collaboration with Maternal Voice.
Entrè 100:-, biljetter finns på Rönnells Antikvariat.
Dörren öppnas kl. 19, konsert kl. 20.
Richard Dawson
Rising up from the bed of the River Tyne, a voice that crumbles and soars, that is steeped in age-old balladry and finely-chiselled observations of the mundane, Richard Dawson is a skewed troubadour at once charming and abrasive. His shambolically virtuosic guitar playing stumbles from music-hall tune-smithery to spidery swatches of noise-colour, swathed in amp static and teetering on the edge of feedback. His songs are both chucklesome and tragic, rooted in a febrile imagination that references worlds held dear and worlds unknown.
Both live and on record Dawson is a barrage of musical expression and personality. A shambling exterior, amidst tales of pineapples and underpants, ghosts of family members and cats, his stage presence is at once inviting and awe-inspiring. The visceral power of his voice against the lurching modality of his guitar lines conjure false memories of Tim Buckley and Richard Youngs duetting with Sir Richard Bishop and Zoot Horn Rollo. There is a rawness to the music that embodies timeworn singing traditions – the fire and pestilence gait of the Sacred Harp singings, the fractured call and response of the Gaelic Psalms, the unbridled power of Mongolian throat singers – its power tempered by intimacy, flecked with human emotion anchored by a sense of place.
Like a good folk tale, there are twists in the tapestry he weaves, the everyday details breaking through – be it cans of Castlemaine XXXX or caesarean sections – these are yarns of a Northumbrian childhood, misremembered, overheard, full of death and trauma. This is not a folk record, but it shares something with the epic Appalachian ballads, or a full throated Methodist hymn – tales sung to ward off the misery of the everyday, to transport and transcend, one moment tender, one moment violent – this is music to alter our reality.
A highly recommended tour portrait of Richard Dawson which was made by Harry Wheeler last year that serves as a wonderful introduction;
https://www.youtube.com/watch?v=WxAWHHiQajA
"Personally, I don't believe in genius. I put all of my stock in clear sightedness, originality, steadfastness of purpose, bloody-mindedness, meticulous planning, quick wittedness and other, much easier to quantify attributes. However if there's one currently operational musician who has genuinely made me reassess this belief in recent years then it's the folk singer Richard Dawson. If there's another songwriter out there in 2015 with a deeper understanding of their craft than Dawson, then I'm unaware of who it is."
– John Doran, The Quietus, February 10th, 2015
http://thequietus.com/articles/17205-richard-dawson-interview-2
"The first time I saw him, last year in Glasgow, I went along with no great expectations, perhaps even a little cynicism. He opened with 'The Brisk Lad', a harrowing and defiant tale of sheep theft on the grim Yorkshire moors, performed a cappella and virtually unamplified. It was astonishing – direct, raw, wounded, loud as fuck. The voice of a bear smouldering on a peat fire, the words of poet, the cold-stare intensity of a lone trawlerman whose shipmates were lost to the waves, the buzzing alertness of a questing improviser, a soul as old as the landscape he sung about. Between songs, this awkward, amiable, irresistibly charming young man told stories, cracked groan-worthy gags and snacked on the petals of an unwitting chrysanthemum. I'd never seen anything like him."
– Matt Evans, The Quietus, November 25th, 2014
http://thequietus.com/articles/16757-richard-dawson-nothing-important-review
I samarbete med Rönnells Vänner, Studiefrämjandet, Stockholms stad, Kulturrådet och Humlegården Fastigheter.