EVENEMANG>
Chris Corsano (US) & Mette Rasmussen (DEN) duo and Diane Cluck (US) OBS! nya speltider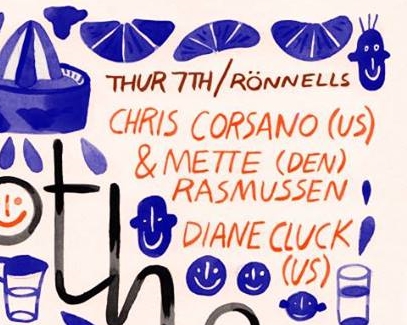 torsdag 7 maj
19-22
150:-
Mother Events & Rönnells proudly present:
Diane live kl. 19:45, Chris & Mette live kl. 20:45
Entré 150kr
Biljetter finns på Rönnells
Chris Corsano and Mette Rasmussen duo
"In revisiting the template laid down by John Coltrane and Rashied Ali on Interstellar Space, the pair pick up on a quintessential and enduring out-jazz configuration – the sax/drums duo… What stands out most on the album is the duo's use of space. There's very little in the way of gratuitous skronk – but plenty of room for Rasmussen to investigate a wide palette of voicing, from a raggedly insistent fluttering, through a softly trilling multiphonic purr, and on to high, expressive leaps into flashes of altissimo, just riding the razored edge of controlled lyricism." – Daniel Spicer, The Wire (December 2014)
Chris Corsano is a drummer who's been operating at the vanguards of free improvisation, avant-rock, and noise music since the late '90s. He's worked with saxophonists like Joe McPhee, Akira Sakata, Paul Flaherty and Evan Parker; guitarists such as Jim O'Rourke, Sir Richard Bishop, Thurston Moore, Matt Valentine and Nels Cline; and also one-of-a-kind artists Björk and Jandek.
His style incorporates high energy free improvising, more textural work, and augmenting the drum kit with everything from cello strings stretched across the skins to disassembled saxophone parts. In May 2012 he was rightly voted one of the '100 Greatest Drummers of Alternative Music' by Spin Magazine.
Mette Rasmussen is a Danish saxophone player living in Trondheim, Norway.
Drawing from the energy of free jazz, her playing has been described as a head full of ideas, that she executes to the maximum. With an ongoing study of new sonic possibilities, she uses a broad pallet of techniques, extending the grammar of the instrument.
The last several years she has been highly active with concerts in Europe, the United States, and Russia, collaborating with Alan Silva, Tobias Delius, Rudi Mahall, Wilbert de Jode, Axel Dörner, John Edwards & Craig Taborn. In addition she has toured extensively in the UK with the band Trio Riot. The American magazine Downbeat named her "young Scandinavian saxophone sensation" while reviewing the Corsano/Rasmussen Duo concerts at the Copenhagen Jazzfestival 2014.
Diane Cluck
"Diane Cluck is a virtuosic talent with an emotionality that feels at once ancient and alien. Her mastery of her voice as an ecstatic instrument is so compelling."
– Antony Hegarty (of Antony & The Johnsons)
"When Diane sings, I am lost in a realm of infinite possibilities. She breaks me down, she gives me chills, she makes me cry–this is when I love music. "
-Bianca Casady (of CocoRosie)
"She made me rethink my singing instincts. Diane is not just an amazing and interesting singer, she's a philosopher." -Sharon Van Etten
Diane Cluck is a Virginia-based singer-songwriter of intuitive folk. On her last album, Boneset (March 2014, Important Records), dream-like visions combine with the mundane through visceral and dynamic themes: birds, death, poverty and riches, déjà vu, shame, fear, boldness, longing, belonging, freedom, release, and heart. "Cluck's sparse compositions seem to float defiantly from some fortress the conscious self had long left behind", a reviewer from The Providence Phoenix recently wrote.
Fellow folk musician Devendra Banhart championed her early, referring to her as "my favorite singer-songwriter in all of New York City", choosing one of her songs for his "Golden Apples of the Sun" compilation. Other supporters / collaborators include CocoRosie, who invited Cluck to open shows in the U.S. and Europe and released her "Countless Times" album through their personal label imprint. Sharon Van Etten, Florence Welch (of Florence And The Machine), and Laura Marling have all cited Diane's work as influential.